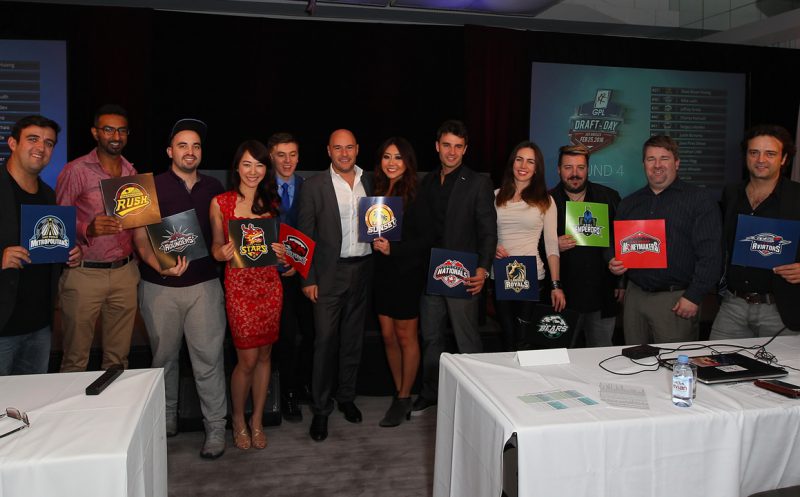 The Picks from Team Managers for the Global Poker League 2016
February 26th, 2016
In the midst of an electric atmosphere at the SLS Hotel in LA, the inaugural GPL draft played out live on Twitch under the watchful eye of hosts Joe Stapleton and Kara Scott, alongside live analysts Daniel Negreanu, Phil Hellmuth and Eric Danis.
Rome Emperors – Max Pescatori
Mustapha Kanit
Dario Sammartino
Timothy Adams
Walter Treccarichi
Max Perscatori, having been allocated the opening pick in the draft lottery, surprised no one by opening the night with the selection of Mustapha Kanit. He followed up with another Italian in Dario Sammartino, before the shrewd addition of Canadian high stakes pro Timothy Adams. For his final pick he reverted back to a home field selection with the acquisition of Walter Treccarichi.
Montreal Nationals – Marc Andre Ladouceur
Mike McDonald
Martin Jacobsen
Pascal Lefrançois
Xuan Lui
Marc Andre Ladouceur opened in a similar vein, going for Canadian hero Mike McDonald with his opening pick for the Montreal Nationals. Ladouceur had been widely expected to opt for Jonathan Duhamel in the second round, but this pick was agonisingly snatched from him by Chris Moneymaker. Instead Ladouceur opted for fellow world champion Martin Jacobsen, before adding the Canadian duo Pascal Lefrançois and Xuan Lui for his final 2 picks.
New York Rounders – Bryn Kenney
Jason Mercier
Tom Marchese
Kevin MacPhee
Jason Wheeler
The New York Rounders under Bryn Kenney's stewardship opted for an all American roster. Few were surprised to see Jason Mercier snapped up in the early stages, with Kenney following up with big hitters Tom Marchese, Kevin MacPhee, and Jason Wheeler, prompting the analysts to put New York among the early favourites.
San Francisco Rush – Faraz Jaka
Phil Galfond
Tony Gregg
Kitty Kuo
Anton Wigg
Faraz Jaka, having survived a monsoon in Fiji last week, arrived safely in LA to open his roster with online legend Phil Galfond. Jaka followed up with Tony Gregg and Kitty Kuo, before flipping a coin to decide his final pick which ended up going to Swedish EPT regular Anton Wigg.
Las Vegas Moneymakers – Chris Moneymaker
Anthony Zinno
Jonathan Duhamel
Jake Cody
Jonathan Little
The Las Vegas Money Makers, with Chris Moneymaker at its helm, kicked off their GPL team with Anthony Zinno, and caused the first major stir of the night by drafting Montreal native Jonathan Duhamel in round 2 much to the dismay of Ladouceur. Moneymaker followed up with 2 more solid picks in Jake Cody and Jonathan Little.
Sao Paulo Metropolitans – André Akkari
Darren Elias
Byron Kaverman
Thiago Nishijima (Decato)
Joao Pires Simao
The roster of André Akkari's Sao Paulo Metropolitans had proved difficult for team of analysts to predict with no one correctly foreseeing the opening selection of US pro Darren Elias. Akkari followed up the GIP POY Byron Kaverman, before reverting to hometown picks Thiago Nishijima and Joao Pires Simao.
London Royals – Liv Boeree
Igor Kurganov
Vanessa Selbst
Chris Moorman
Justin Bonomo
There were few in the SLS Hotel who were surprised when Liv Boeree opted for Igor Kurganov as her opening pick for the London Royals. Boeree was able to draft poker heavyweights in every round as she followed up with Vanessa Selbst, Chris Moorman, and Justin Bonomo, putting London firmly atop the list of early favourites.
Moscow Wolverines – Anatoly Filatov
Dzmitry Urbanovich
Vlad Troyanovskiy
Andrey Pateychuk
Sergey Lebedev
The Moscow Wolverines , with Anatoly Filatov at the helm, opted for Dzmitry Urbanovich and Vlad Troyanovskiy in the opening 2 rounds, a pairing widely foreseen by the analysts. Filatov chose to remain Russian centric with his 3rd and 4th picks, adding Andrey Pateychuk and Sergey Lebedev to his roster.
Los Angeles Sunset – Maria Ho
Fedor Holz
Olivier Busquet
Eugene Katachalov
Chance Kornuth
Hot property Fedor Holz revealed to sideline reporter Holly Sonders before the show that his hope was to be drafted by LA Sunset , and Maria Ho was obliging, adding Holz as her opening pick. Ho followed up with Olivier Busquet, Eugene Katachalov and in form Chance Kornuth.
Berlin Bears – Philipp Gruissem
Brian Rast
Sorel Mizzi
Dominik Nitsche
Jeff Gross
Berlin Bears manager Philipp Gruissem, who had been unable to reach LA, was making his selections via Skype to Lynn Gilmartin. He opted for Brian Rast as his opening pick and followed up with friend and fellow high stakes pro Sorel Mizzi. His first German selection was Dominik Nitsche in round 3, a player many had expected to go earlier. Gruissem rounded off his roster with Jeff Gross.
Paris Aviators – Fabrice Soulier
Elky
Davidi Kitai
George Danzer
Mike Leah
Although Fabrice Soulier's Paris Aviators had been consigned to 11th pick in the opening round, Soulier was able to achieve the opening picks he had surely sought in French speaking big hitters Elky and Davidi Kitai. Soulier then took advantage of the somewhat surprising availability of George Danzer at a late stage in the draw, before finishing with the talented Mike Leah in a move that was  unforeseen by the analysts.
Hong Kong Stars – Celina Lin
Weiyi Zhang
Raiden Kan
Dong Guo
Bryan Huang
Celina Lin's Hong Kong Stars was populated with an all Asian roster, falling in line with the expectations of the analysts. She opened with Weiyi Zhang, and followed up by the colorful Raiden Kan, before adding Dong Guo and Bryan Huang.