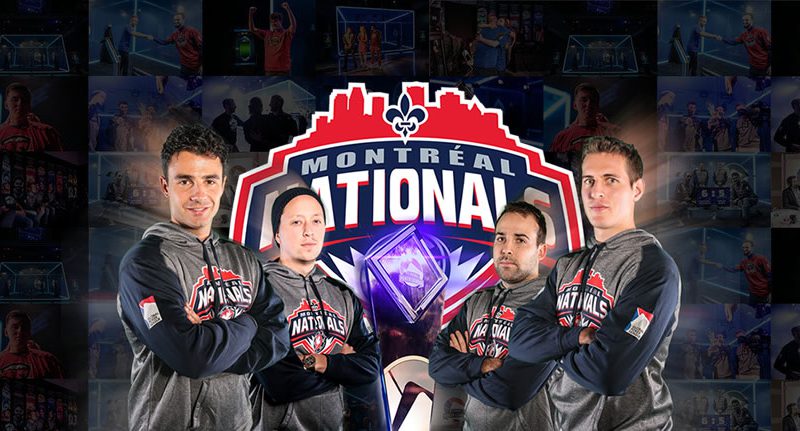 Montreal Nationals take down the GPL Finals; the spirit of sport at center stage in the League's Finale
December 2nd, 2016
December 1, 2016 – Las Vegas
That's all she wrote! Season 1 of the Global Poker League, sponsored by PokerStars, is in the books and it's the Montreal Nationals coming out on top as this season's Champions. The crack line-up of Pascal Lefrancois, Jason Lavallee, Mike 'Timex' McDonald & team manager Marc-Andre Ladouceur defeated the Berlin Bears (represented by Brian Rast, Sorel Mizzi & Bill Perkins) in the GPL Finals in Las Vegas to take home the glory & a cool $100,000 in prize money. Montreal's remaining members  – former WSOP Main Event Champion Martin Jacobson & pro Xuan Liu – are certainly celebrating from afar as well.
The GPL Playoffs and Finals started out with 8 teams across the League's 2 conferences in contention for the Championship, with Montreal & the Moscow Wolverines looking as the respective favorites in each conference to make the Finals. It wasn't meant to be for Moscow though – as Anatoly Filatov's team fell in what turned to be a classic match-up with the underdog Berlin Bears for the GPL Eurasia Conference title. The best-of-7 match up went all 7 games, with the Wolverines and Bears trading wins. An amazing 5-0 performance in heads-up matches up to that point from Berlin's Brian Rast proved to be too much to overcome though, and the 3rd seeded Bears moved on.
The Finals went the distance as well. The best-of-11 marathon looked like it may end in early after a surge for Montreal put them just 2 games shy of the overall win at 4-2, but the Bears rallied back and it all came down Pascal Lefrancois vs. Brian Rast for all the marbles. Lefrancois was victorious and the season – as well as the long journey to make a full season of poker's 1st legitimate league – was finally a full reality.
The spirit of sport was evident throughout the Playoffs & Finals – both amongst teams, who were visibly invested – as well as fans who watched marathon sessions of poker to support their chosen teams.
The Nationals' Mike McDonald perhaps summed the spirit of the games this week best, explaining:
"If [the rest of the Nationals] were watching Pascal at a final table playing for ten times these stakes we'd just be sitting there having a good time. Here we were both nervous. We were on the edge of our seats. This really made it about the poker rather than about the money and I think that's what the goal of sportifying poker was – is to remind you of right when you were just starting out in Poker, and I think the GPL has accomplished that."
There's definitely some rough edges to work on, but one thing is certain – the concept of Poker as a team sport is achievable and we're looking forward to keep growing this league and connecting viewers with a new way to experience the game for Season 2 in 2017 and beyond.