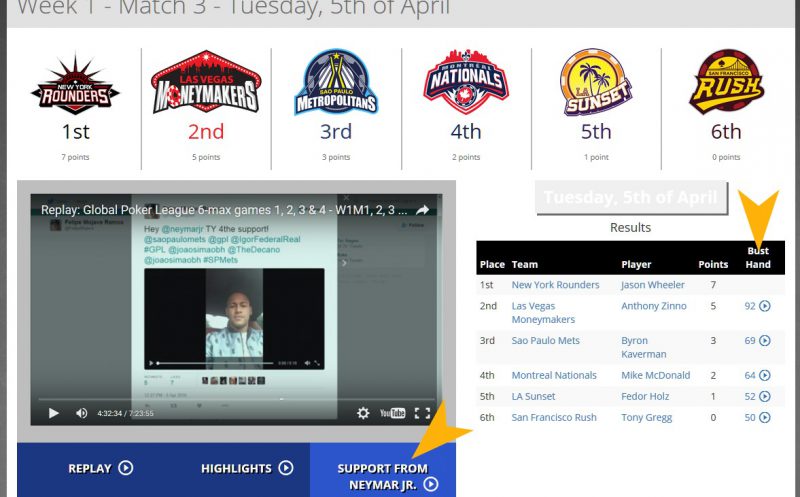 Enhance your GPL Experience with Replays, Highlights, Key moments and Bust-outs
April 8th, 2016
The first week of the Global Poker League is over, and in this week, we have learned a lot from your feedback. Not only to make the streams more fun and exciting but also you asked for more information and videos on the website and on our social media platforms like YouTube, Twitter, and Facebook.
Match pages
When you click on the matches in the "slider" just below the navigation menu, you will be taken to the match page. You can also go to the SCHEDULE and navigate from there to the games you want to (re)watch or have extra information about.
6-max EURASIA & AMERICAS match page
On the page of the 6-max games, for example, you can select the video you want to see. The full replay, the highlights, or a short clip from "the moment" of that game.
Furthermore, on the right side of the page, you can see the hand number in which a player busted from the match; click on the small play icon and you will see the exit hand.
Heads-up matches
On the match page for the heads-up games, you can see on the right side of the page how many hands it took to end a heads-up match.
Below the video player you again have the options to watch the full replay, the highlights, and the key moment in the games.
If you have any questions or feedback, please reach out to us on social media or use the comments option below.
Thank you for all the comments and feedback on all possible channels. We're listening!