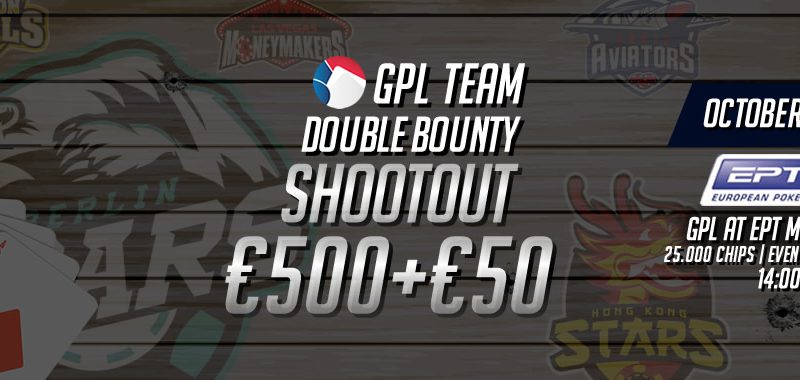 EPT Malta Team Bounty Shootout
October 7th, 2016
Name: GPL Team Double Bounty Shootout
Date: 28-10-2019
Starting time: 14:00 CET
Buy-in: € 500 + € 50
Starting Stack: 25,000 chips
Event number: #85
300 Euro (Main Prizepool) + 100 Euro ('Team' Bounty Share) + 100 Euro (Individual  Instant Bounty) + 50 Euro (Reg. Fee)
Full EPT Malta Schedule
Structure
Turbo – 15 Minute Levels, 25K Starting Stacks, No Late Registration.
Normal 6-Max Shootout Payout Structure – with 1 winning player from each 6 handed table progressing from Round 1 to Round 2, and so on depending on the number of entrants in the event.
The Main Prizepool (300 Euros/ player) is split up amongst ITM finishers and Finalists normally.
The Bounties
Individual Bounties: Just like any normal bounty event, with the player busting their opponent instantly receiving a bounty reward from this elimination (100 Euros).
'Team Bounties': This is a fun progressive-inspired 2nd Bounty (100 Euro/ player):
Round 1: Each seat at every 6-Max table is automatically registered as one of 6 GPL Eurasia teams.
Round 2: The winner of Round 1 – whichever team that is on each table – 'activates' their Teams' bounty and adds 600 Euros each (100 Euros from each of the 5 teams they busted in Round 1 + their own 100 Euro addition) into the prizepool starting in Round 2.
So, who wins the Team Bounties?
Starting in Round 2 – all Team Bounties are added up – at EPT Malta, there will be 6 different Team Bounties to compete for – 1 representing each of GPLs 6 Eurasian Teams.
Example: Say 4 players registered as 'Moscow Wolverines' make it to Round 2:
The Wolverines' Team Bounty Pool swells to 2.4K (600 Euros x 4 players). These 4 players now automatically compete for this 2.4K side prize, with the last 'Wolverine' registered player standing pocketing the cash and a Moscow Wolverines Jersey!
There are 6 of these total 'Team Bounty' side prizes featured in the GPL Team Double Bounty Shootout, and the size of each depends on how well players registered to your Team do in Round 1!