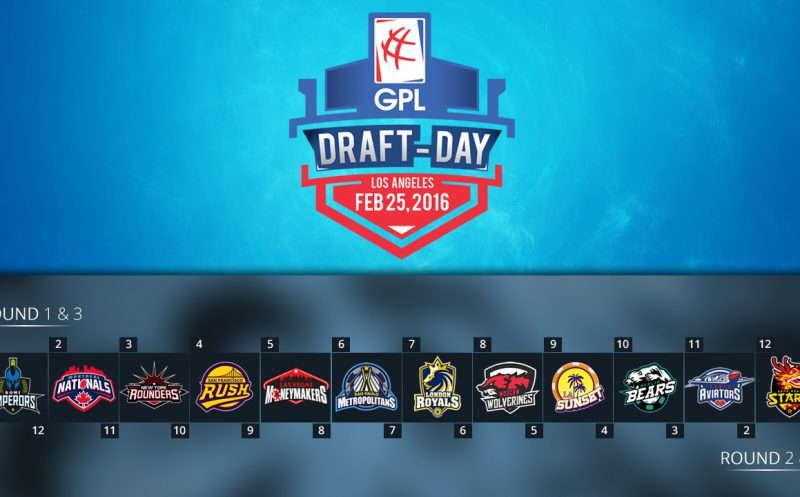 A Look Towards the GPL Draft
February 24th, 2016
Whilst drafting is a concept rather more familiar to sports fans on the North American side of the Atlantic, it represents an essential element of the GPL for all involved.
The first stage of drafting process, the draft lottery, which randomly assigned the order in which the 12 team managers would select their draft choices, took place live on Twitch on 18th February at the GPL Studios in Malta.
With GPL CEO Alex Dreyfus drawing the teams alongside Laura Cornelius, its was Max Pescatori's Rome Emperors who were handed the coveted first draft pick, with Celina Lin's Hong Kong Stars bringing up the rear with the 12th pick in Round 1.
With 4 rounds of drafting and a 'snaking' order of selection in use, the advantage of early selection  in Round 1 will be mitigated by late selection in Rounds 2 and 4. Similarly, teams selecting towards the end of Round 1, will have the early picks Rounds 2 and 4. Rounds 1 and 3 will feature the same order of selection.
The team managers will be making 4 selections over the course of the Draft at the SLS Hotel in Beverly Hills, after which managers will asked to publically declare their 'Wildcard' picks, who will make up the remainder of their team roster.
The most intriguing element of the draft will be it's unpredictability. The concept is completely new within poker and very few people have managed to gain insight into the intended strategy of the team managers. Furthermore, any advanced strategic planning of the part of the team managers, may have been disrupted by the draft order, and could be scuppered further as the draft plays out, with any team possessing the ability to draft any player.
The only player with the luxury of time of his hands is Max Pescatori, who has a had a week to ponder his opening selection. All the other managers will have a minute each, throughout the draft. The atmosphere is expected to be electric for this showpiece, where literally anything can happen.