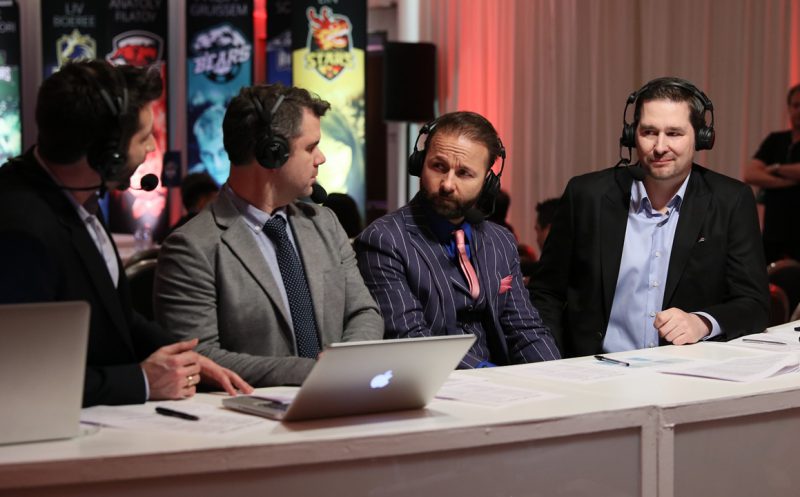 GPL Draft: How the Analysts saw it
February 26th, 2016
Each pick of the GPL draft was subject to the scrutiny of the analyst team lead by Joe Stapleton, consisting of the GPI's Eric Danis and poker immortals Daniel Negreanu and Phil Hellmuth. With a marked difference in the outlook of each analyst, it lead to some lively debate.
Hellmuth pressed strongly on his belief in the requirement for the self appropriated concept of 'White Magic', usually interpreted in lay terms as the ability to read an opponent, at the expense of more conventional strategic approaches. Negreanu, astutely aware of the importance of marketability on top of a strong technical skill set, brought his own perspective to the desk and repeatedly clashed with the Poker Brat. Danis, possessing an encyclopedic knowledge of players result and achievements, was able to vouch and provide insight into some of the non-household names to be selected on the night.
In the opening round the shocks were scarce. Whilst the destination of the elite names was not always clear cut, the inevitability of their selection was undeniable.  The first selection to raise eyebrows was Darren Elias to Sao Paolo, but the first to cause an audible gasp throughout the room was the selection of Jonathan Duhamel by Chris Moneymaker.  Montreal Native Duhamel was a near lock to team up with his hometown under Marc Andre Ladouceur, and talk of trades began to fill the room before being eventually extinguished by the GPL team.
The first selection that brought widespread disagreement from the analysts was arguably the selection of Pascal LeFrancois for Montreal. With a host of big names still undrafted, and perhaps reeling from missing out Duhamel , Ladouceur went for the Quebec native who currently sits 1005 in the GPI.  Whilst Hellmuth and Negreanu reeled of names of big hitters Ladouceur was overlooking, Danis reminded his fellow analysts that LeFrancois was a WSOP Bracelet winner and SCOOP champion with $2.5m in live earnings. Nothing to be scoffed at.
As was to be expected, much of the analysis centered around the big name players that were still to be drafted. With a pool of 203 supremely talented players, this was perhaps the only element of the night that was inevitable.  Sam Greenwood, Ankush Mandavia, Shannon Shorr and Mohsin Charania were amongst dozens of high level players to miss out to the dismay of the panel. These players will be competing for 24 wild card spots, alongside many other hundreds of hopefuls.
Follow GPL on Twitter and Facebook for the wild card announcements and full GPL coverage.