GPL Season 1 Quick Take:
An experiment by the numbers
The GPL Regular Season:
A Quick Rundown
Each GPL team ended up having a 6 player roster, with:
The Global Poker League featured an opening season of 12 teams spread across 2 conferences: GPL Americas & GPL Eurasia – with 6 teams competing in each conference.
Each GPL team ended up having a 6 player roster, with:
1 Team Manager:

The team captain (listed above for each team) responsible for guiding their roster.

4 Drafted Pros:

Players ranked within GPI's TOP 1,000 global rankings, as chosen by teams during GPL's Draft Day.

Up to 2 Wildcards:

This is each team's X factor. A player managers can choose at their own discretion, regardless of whether they are poker legends, lowkey grinders, outside of the GPI Top 1,000 or outside the Poker world entirely.
Note: Managers want to play for their own team were allowed occupy one of their Wildcard slots themselves, as came to be the case for Phil Gruissem who played a 'manager only' role for the Berlin Bears.
14 weeks of online conference based action; 4 weeks of inter-conference live games inside the GPL Cube during the 2016 WSOP
With every team set to play in 24 unique 6-max sit & go matches, 15 online heads-up matches and 6 live inter-conference live matches – each of GPL season 1's 12 teams had 45 total games throughout the regular season to rack up points and guarantee their spot when it came time for play-off qualifications. 4 of 6 teams in each conference would make it through.
In the end it was the Moscow Wolverines for GPL Eurasia & the Montreal Nationals for GPL Americas who would clinch regular season performance to finish out the regular season.
The GPL Playoffs:
8 of 12 GPL Teams Qualify for the Post Season
The close of play for the Global Poker League's first ever regular season saw both of the League's conferences cut its two worst performing teams (by number of points tallied up across the entirety of the regular season's 16 week run):
The 4 teams cut after the regular season were as follows:
GPL Americas Conference:
GPL Eurasia Conference:
This left 4 GPL Americas teams & 4 GPL Eurasia teams set to play down to their respective conference championships, before the final 2 remaining teams put everything on the line to go for the overall title and the 6 figure payday that came with it.
GPL season 1 play-offs qualifiers, ordered by their entering seeds (highest seeds scored the most points in the regular season in their conferences, while lowest seeds scored the least points):
GPL Americas Conference:
GPL Eurasia Conference:
The Moscow Wolverines

(led Anatoly Filatov)

The Hong Kong Stars

(led Celina Lin)

The Berlin Bears

(led Phil Gruissem)

The London Royals

(led Liv Boeree)
Here's a visual look at the tournament bracket at the start of the GPL season 1 playoffs for full starting chip counts and opening matchup information: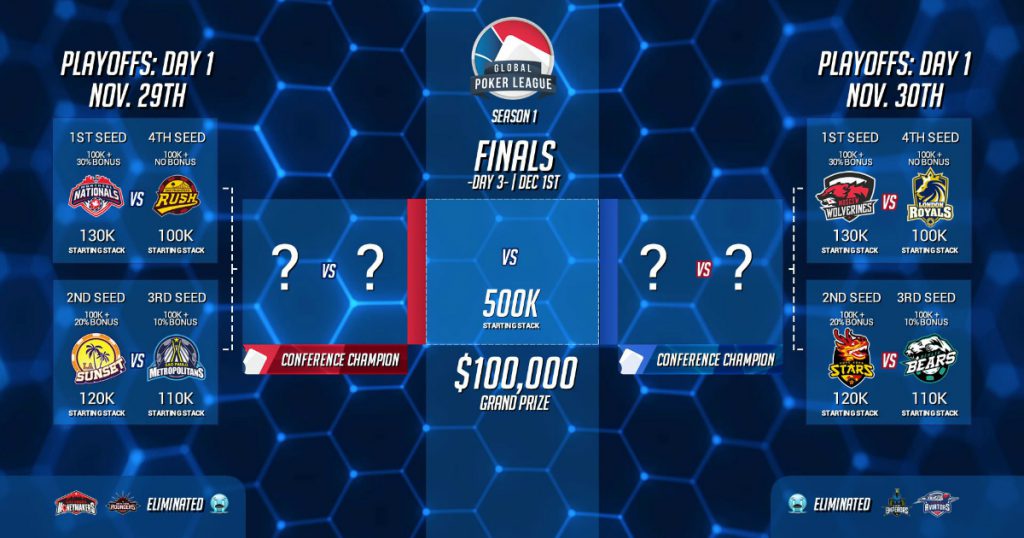 The GPL Playoffs and Finals started out with 8 teams across the Global Poker League's 2 conferences in contention for the Championship, with the Montreal Nationals & the Moscow Wolverines looking as the respective favorites in each conference to make the Finals.
Montreal beat the San Francisco Rush in their opening round and defeated the LA Sunset in a marathon battle to clinch the GPL Americas Conference title.
Meanwhile, the Moscow Wolverines overcame Liv Boeree's London Royals easily to go up against the Berlin Bears for the GPL Eurasia Conference championship and a shot at the GPL Finals title.
It wasn't meant to be for Moscow though – as Anatoly Filatov's team fell in what turned to be a classic match-up with the underdog Berlin Bears for the GPL Eurasia Conference title. The best-of-7 match up went all 7 games, with the Wolverines and Bears trading wins.
An amazing 5-0 performance in heads-up matches up to that point from Berlin's Brian Rast proved to be too much to overcome though, and the 3rd seeded Bears moved on.
The GPL Finals:
Montreal Nationals beat the Berlin Bears to win!
The GPL Finals proved to be a barn burner. The best-of-11 marathon looked like it may end in early after a surge for Montreal put them just 2 games shy of the overall win at 4-2, but the Bears rallied back and it all came down Pascal Lefrancois vs. Brian Rast for all the marbles.
Lefrancois was victorious and the season – as well as the long journey to make a full season of poker's 1st legitimate league – was finally a full reality.
Season 1 of the Global Poker League, sponsored by PokerStars, finished with the Montreal Nationals coming out on top to take home the glory & a cool $100,000 in prize money.
The Champion's line-up (present for the live showdown):
Marc-Andre Ladouceur (

Team Manager)

Pascal Lefrancois

Jason Lavallee

Mike 'Timex' McDonald
Absent:
Former WSOP Main Event champion Martin Jacobson

Xuan Liu
The runners-up (present for the live showdown):
Brian Rast

Sorel Mizzi

Bill Perkins
Absent:
Phil Gruissem (

Team Manager)

Jeff Gross

Dominik Nitsche
The spirit of sport was evident throughout the Playoffs & Finals – both amongst teams, who were visibly invested – as well as fans who watched marathon sessions of poker to support their chosen teams.
The Nationals' Mike McDonald perhaps summed the spirit of the games this week best, explaining:
"If [the rest of the Nationals] were watching Pascal at a final table playing for ten times these stakes we'd just be sitting there having a good time. Here we were both nervous. We were on the edge of our seats. This really made it about the poker rather than about the money and I think that's what the goal of sportifying poker was – is to remind you of right when you were just starting out in Poker, and I think the GPL has accomplished that."
GPL on Twitter


2 weeks ago
Global Poker League
@gpl
RT @VanessaSelbst: In New York this Saturday? Don't miss the satellite for #JusticeIsBlinds to support @UrbanJustice and win a $15k @PokerS…

2 weeks ago
Global Poker League
@gpl
RT @Urbanovich_Dima: Tv table at @partypokerlive #MILLIONS. @aangierr @steveodwyer Vovtroy. 30 min delay with open cards. https://t.co/PeOO…

3 weeks ago
Global Poker League
@gpl
RT @VanessaSelbst: Don't miss this year's #JusticeIsBlinds on September 26 in NYC! youtube.com/watch?v=j_Rv28…

Managers on Twitter
14 hours ago
Liv Boeree
@Liv_Boeree
RT @FHIOxford: FHI is still looking for academic polymaths: Two research positions at FHI in macrostrategy closing soon (29 Sep) https://t.…
16 hours ago
Liv Boeree
@Liv_Boeree
For those of you familiar with the classic "drowning child" thought experiment... It actually happened!... fb.me/38Ukd06cB
16 hours ago
andre akkari
@aakkari
A PARTIR DE HOJE TEM #POTEDEPREMIOS ROLANDO PRA QUEM JOGA O #AKKARIPOKERQUIZ. Mais informações acessem:… twitter.com/i/web/status/9…
17 hours ago
andre akkari
@aakkari
Voces querem um Boteco junto com o live do Facebook?
Teams on Twitter

2 hours ago
Hong Kong Stars
@HKGStars
RT @BryanHuang_: Came to Korea for work and party but ended up winning @wpt + @pokerkingclub Korea HR event! Yay!… instagram.com/p/BZge9DTl_ww/

1 week ago
London Royals
@LDNRoyals
RT @JustinBonomo: 5/7 Going into Poker Masters $50k FT tomorrow. 6 spots pay, $819k for 1st. Watch the PokerGo.com stream at 12…

2 weeks ago
Moscow Wolverines
@MSKWolverines
RT @Urbanovich_Dima: Tv table at @partypokerlive #MILLIONS. @aangierr @steveodwyer Vovtroy. 30 min delay with open cards. https://t.co/PeOO…

1 month ago
London Royals
@LDNRoyals
RT @REGcharity: Congrats to our co-founder @kurganovigor for shipping the SHR for over 1 million!!! twitter.com/PokerStarsUK/s…

1 month ago
London Royals
@LDNRoyals
RT @PokerStarsBlog: It's over. Team Pro's @kurganovigor is the champion. Full details incoming: psta.rs/2wr8OHR https://t.co/VRI6k…