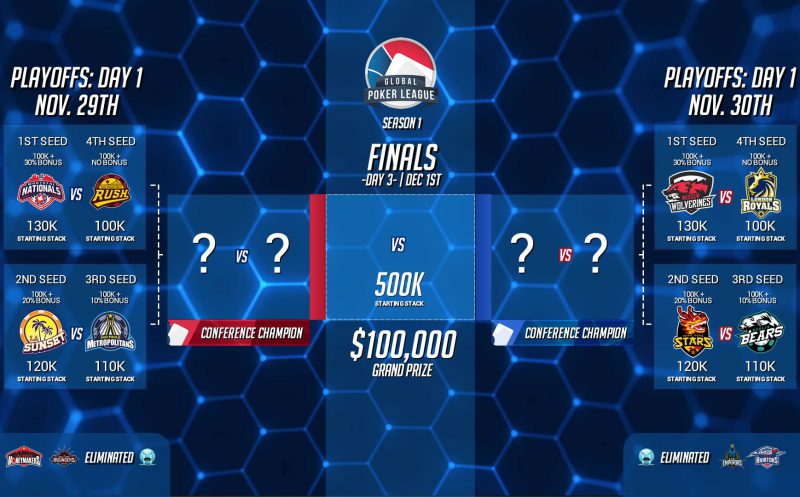 GPL playoff format revealed: Team Managers with big decisions on their hands
November 4th, 2016
Big decisions await the eight remaining Team Managers as the Global Poker League introduced the official playoff format for the upcoming GPL Playoffs and GPL Championship.
A series of consecutive heads-up games, where each team member will be required to play, will determine a winner in each round en route to the GPL Championship.
Finding the right trio
Each Global Poker League team will be represented by three players in Las Vegas.
Managers will be required to play their players in a modified rotation. A player will not be able to play another game in a match until his/her two teammates have also played.
A "Best of Seven" series (first team to accumulate four game victories) will determine the winners in the Conference Semi-Finals and the Conference Finals. For the GPL Championship, a "Best of Eleven" series (first team to win six games) will be played to determine the winners.
Managers will be asked to set their lineup for the first three games of their Conference Semi-Final series. Teams will then be required to name the next player to enter The Cube following the completion of any subsequent games.
Teams will the best rank will also be able to see their opponent's lineup before submitting theirs. This does not apply in the GPL Championship. Teams will begin on a level playing field with no advantage for either team.
An "Alternate Player" option is available to the Team Managers. Teams who chose to do so can bring a fourth player to Las Vegas and that player can take the place of a teammate at the start of each new round only.
Schedule
TUESDAY, NOVEMBER 29, 2016
#1 Montreal Nationals v #4 San Francisco Rush
#2 LA Sunset v #3 Sao Paulo Metropolitans
Americas Conference Final
WEDNESDAY, NOVEMBER 30, 2016
#1 Moscow Wolverines v #4 London Royals
#2 Hong Kong Stars v #3 Berlin Bears
Eurasia Conference Final
THURSDAY, DECEMBER 1, 2016
GPL Championship (Winner Americas v Winner Eurasia)