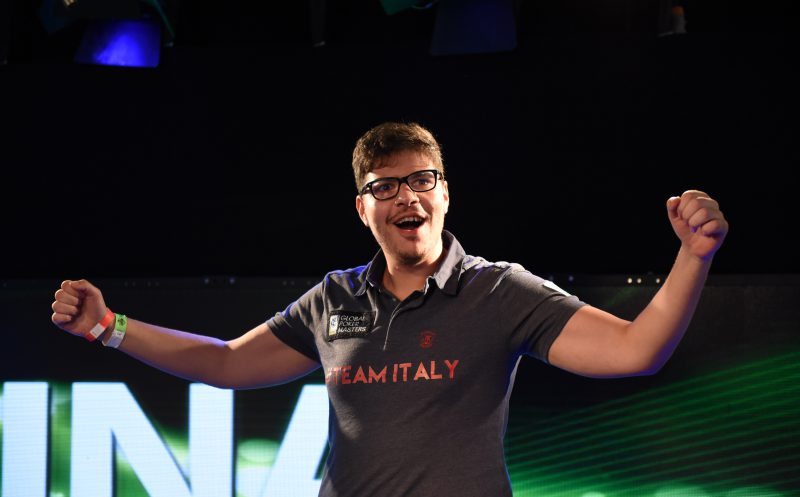 Danis: My favorite picks for each team on #GPLDraftDay
March 2nd, 2016
Forget strategy, forget local focus, forget any logical reason any of the 12 Team Managers used in order to make each of their four individual selections on GPL Draft Day last Thursday. I'm taking a look at my personal favorite picks for each of the 12 GPL teams!
Rome Emperors – Max Pescatori
Sure he was the #1 overall selection last Thursday. Sure he's one of the hottest poker players both on the live tournament circuit and online. Sure he clinched the GPI World Cup for Italy last March … but that's not the reason why I'm going with King Mustapha as my favorite pick by Emperors' Team Manager Max Pescatori.
I'm certain Kanit will quickly become a fan favorite in the GPL. He's bright, funny and quick-witted. He's a superstar in the making. Also, this …
Montreal Nationals – Marc Andre Ladouceur
I love what Marc Andre Ladouceur did here. Ladouceur is convinced that Lefrançois will be one of the most talented players to play in the GPL this year. And although many believe he may have still been around in the 4th round, the Nationals Team Manager wasn't about to risk it and lose him the way he did with Jonathan Duhamel in the 1st round. Ladouceur picked what he believed was the best player on the board.
Lefrançois doesn't play a ton of live tournament poker. He's still a student and tends to spend must of his poker time playing online … however, a quick look at his Hendon profile and you'll quickly realize that the WSOP bracelet winner is damn good! Plus, topless winner's picks …
New York Rounders – Bryn Kenney
As soon as Bryn Kenney announced to Holly Sonders at the end of the 3rd round that he was looking to build a team filled with 'Bad Boys', I immediately wrote down Jason Wheeler in New York's slot for the 4th round (ask Joe Stapleton if you don't believe me). It was the perfect fit.
Now let's get something straight, it's not like people are locking their doors at night at the thought of a bunch of "misfits" in Kenny-Mercier-Marchese-MacPhee-Wheeler walking the streets, but there is an edge to this squad and once Kenney declared his intentions for the 4th round, I was convinced that Wheeler was the perfect fit – and a fun player to boot!
San Francisco Rush – Faraz Jaka
If you watched any of the GPL Draft Day coverage on Twitch, you'll know that both Joe Stapleton and I were just begging teams to draft the amazing Kitty Kuo. Kitty is a marketer's dream – she's extremely talented and is tons of fun. Don't believe me? Check out one of her latest Tweets and you'll be convinced (PS, if you're not following her on Twitter, you're missing out…)
Play Macau cup main event today n don't feel excited at all b/c lose my pink poof iPhone, tilting max now

— kitty kuo thomas (@kittykuopoker) February 29, 2016
This team will certainly be one of the most interesting ones to follow during Season 1 of the Global Poker League.
Las Vegas Moneymakers – Chris Moneymaker
Once Montreal Manager Ladouceur picked Mike "Timex" McDonald in the first round, most believed that rival Team Managers wouldn't touch the 2010 WSOP Main Event Champ, as he had already expressed his excitement in the possibility of playing for his hometown Nationals.
But the 2003 Main Event winner had other plans, and although he did feel bad after picking up Duhamel, I love that Moneymaker had the courage to make what he knew would be a controversial move and add Duhamel to a roster that, to that point, already included former GPI World #1 Anthony Zinno.
Sao Paulo Metropolitans – André Akkari
While most expected him to go local with his team, I love the fact that Akkari and his group went analytical with their selections and chose to go with the two best players on their board first, despite the fact they were both American.
On first blush, the name Thiago Nishijima may not sound Brazilian, but he's a Sao Paulo man through and through. I love this addition to the squad and I believe that Nishijima will quickly become a fan favorite for the Mets. I was in the building when Nishijima was battling for his bracelet this summer in Las Vegas and the atmosphere inside the Amazon Room was totally electric.
London Royals – Liv Boeree
Admit it, like me, you're absolutely jealous of the Liv-Igor romance. Both amazing people, both good looking, both giving people … it's almost unfair :). But don't think for a minute that Liv picked with her heart. Although drafting Kurganov in the first round certainly solved what could have been a few issues at home, there is no doubt in my mind that Liv would have penned someone else's name on her 1st round ballot had she thought there was a better fit for her Royals.
That said, it will be fun to follow them both during Season 1 of the GPL.
Moscow Wolverines – Anatoly Filatov
There was a time that Andrey Pateychuk may very well have been the hottest poker player on the live tournament circuit. With WSOP and WPT wins to his credit, Pateychuk is an EPT title way from Poker's Triple Crown.
Apart from quietly taking over the tournament scene in Cyprus (8 Top 5 finishes since 2014 and two victories already this year), Pateychuk quietly put together a strong 2015 at the World Series of Poker.
Los Angeles Sunset – Maria Ho
Holz wanted to play for LA. Maria Ho could have gone the "safe" route by adding a star American pro, she instead picked the best player on the board and he was more than happy to join her squad.
It will be very interesting to see Holz's development both on and off the felt under Ho's tutelage – it could be one of the most intriguing stories through Season 1 of the Global Poker League. One thing is for sure, Ho landed one of the best poker players on earth with her first round selection.
Berlin Bears – Philipp Gruissem
The fact that Nitsche was still on the board by the time Lynn Gilmartin made her way to the podium to announce Gruissem's third round pick was shocking. Gruissem was very vocal in saying he would not be looking to select a German-only team. He held that promise for two rounds, but adding Nitsche, no matter what his birth certificate reads, was a no-brainer. He's a three-time WSOP bracelet winner and is still barely old enough to drink in the US!
Nitsche has a great attitude and his personality is bound to shine on a team filled with superstars.
Paris Aviators – Fabrice Soulier
My jaw dropped when Soulier announced Mike Leah was his final pick. But although I was ecstatic to learn that another fellow Canuck was going to be in the GPL, it's the addition of Danzer that put the biggest smile on my face.
Danzer wanted to play in the GPL badly. He's a fantastic player and, more importantly, he's a fantastic person! Plus, let's be honest, how many of us can't wait to see ElkY and Danzer on the same stage?
Look what i bought three years ago. #whitemagic? @_Fabsoul_ @KitBul @elkypoker @GoLeafsGoEh pic.twitter.com/bREiJH594n

— George Danzer (@trickyscarfy) February 26, 2016
Hong Kong Stars – Celina Lin
A name straight from a video game! Raiden Kan doesn't only carry a cool name, he carries a heck of a lot of results on the live tournament circuit and certainly hopes to prove many doubters wrong (many believe the Stars will begin Season 1 of the GPL as heavy underdogs).
Lin wasn't shy in announcing her intentions of building an Asian-centric team; Kan and his teammates will have to prove that she indeed made all the right moves on GPL Draft Day. Certainly looks like Lin herself is already in full WIN mode:
Won my first spade! 💜💜💜 The only one missing from my collection 😜 @PokerStarsMacau pic.twitter.com/oUbASROfbO

— Celina Lin (@CelinaLin) March 1, 2016